The integration of live AIS data is complete. Since the end of May 2019, NavShip Apps allow ships and boats to send an AIS signal around.
The prerequisite for this is an AIS-capable antenna and a system which converts the AIS signals into NMEA data and uses e.g. via WiFi to the smartphone can transfer. The processed data is then graphically displayed in NavShip.
Currently there is no limit. The feature is integrated for free.
What do I need?
Latest version of NavShip. For Android devices at least NavShip 1.16 or iOS devices at least NavShip 1.6.
FM antenna capable of receiving AIS data in the VHF range of 161.975 and 162.025 MHz.
AIS receiver (finished system that receives and processes the data via the antenna).
NMEA output (digitization of the data into the NMEA data format).
WiFi (sends the data via a Wi-Fi connection directly to the smartphone) or a cable connection, the main thing the data feed is accessible via the network.
Optional: A laptop with Windows for the configuration of the AIS receiver (during the ready-made solution of our partner)
Ready-to-go solution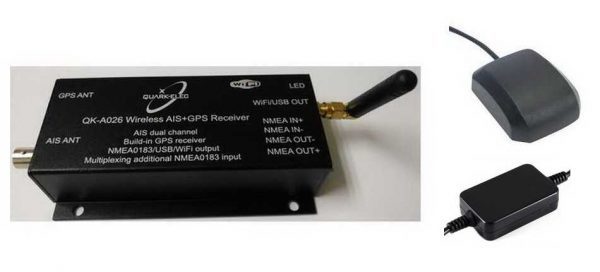 Note for Wi-Fi connections
However, to be able to access the Internet from your smartphone (if you do not want to operate NavShip 100% offline), you must either configure the receiver to be part of a network powered by the Internet or set in your smartphone, despite Wi-Fi Connection also mobile data can be used. Some (but not all) of the devices allow you to configure it by determining how to enable developer mode in your device. Information about this can be found under this link:
https://www.heise.de/tipps-tricks/Android-Entwickleroptionen-aktivieren-deaktivieren-4041510.html
Then you need to click on "Developer Options" in the settings menu of your device and activate "Mobile data always active" (or similar).
Another possibility is to use tethering, i. The phone acts as a hotspot for the AIS device. Of course, it also works when the AIS device transmits to an access point (e.g., router). In this way, several devices can be supplied with AIS and at the same time use an Internet connection. You will need to download this Windows configuration tool from Quark-Elec. A guide to the facility can be found here.