NavShip is available in mostly all european countries who are connected with at least one greater river or sea (e.g. Danube, Elba, Rhine, Odra, Northsea, Atlantic Ocean, and so on) and the US and Canada. Smaller waterways (Waterway classification code III or less) and private lakes might not be covered.
On bigger lakes (like Bodensee or IJsselmeer) you can use beeline routing. Your area is not covered? Then please write an email to [email protected] and ask for submission.
Alle available online maps could be downloaded in app.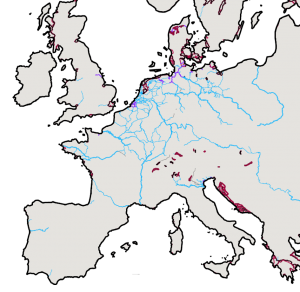 Covered countries
Albania
Austria
Belgium
Bosnia Herzegowina
Bulgaria
Canada (recently)
Czechia
Denmark
France
Germany
Georgia
Greece
Hungary
Ireland
Iceland
Italy
Croatia
Luxembourg
Malta
The Netherlands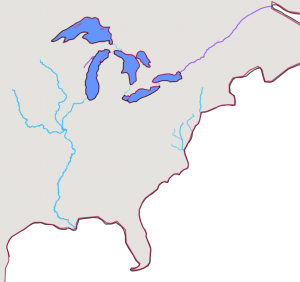 Norway
Poland
Portugal
Romania
Sweden
Switzerland
Serbia
Slowakia
Spain
Turkey
Ukraine
United Kingdom
USA (recently)
Covered high sea areas
Atlantic
Baltic Sea
Black Sea
Mediterranean Sea
North Sea
Pacific (recently)
All covered waterways
Aare, 145km
Acheloos, 66km
Adda, 35km
Adige, 141km
Adour, 99km
Adria, 4241km
Aduarderdiep, 17km
Afrika, 6612km
Afwateringskanaal, 21km
Aisne, 196km
Albertkanaal, 103km
Alddeel, 2km
Aller, 111km
Almelo de Haandrik Kanaal, 40km
Alpnacher See, 5km
Alster, 15km
Alte Maas, 46km
Altrheinarm Erfelden, 10km
Altrheinarm Lampertheim, 6km
Ammersee, 18km
Amstel, 42km
Amsterdam, 84km
Amsterdam-Rijn-Kanaal, 73km
Anglesey, 102km
Atlantik, 21047km
Balaton, 174km
Balgzandkanaal, 16km
Bargermeerkanaal, 7km
Beetzsee, 21km
Belgische Küste, 68km
Berlin-Spandaür-Schifffahrtskanal, 11km
Berliner Stadtkanäle, 66km
Bikowsee, 1km
Bille, 15km
Blavet, 81km
Bodensee, 225km
Boreray, 7km
Bornholm, 164km
Boudewijnkanaal, 17km
Brandenburger Niederhavel, 19km
Brandenburger Stadtkanal, 6km
Brenta, 59km
Brielse Meer, 19km
Brieskower Kanal, 14km
Buizengat, 3km
Calandkanaal, 13km
Canal Bruxelles_Charleroi, 103km
Canal Champagne et Bourgogne, 225km
Canal d'Aire, 40km
Canal dLille et Rance, 108km
Canal dOrleans, 73km
Canal de Tancarville, 41km
Canal de lOise a lAisne, 48km
Canal de la Marne a lAisne, 58km
Canal de la Scarpe, 62km
Canal du Midi, 263km
Canal du Nord, 75km
Canale Commessera, 14km
Canale Livenza Morta, 19km
Canale degli Alberoni, 3km
Canale di Sindacale, 20km
Canale di Valle, 9km
Canna, 23km
Capraia, 20km
Chiemsee, 37km
Coll and Tiree, 101km
Colmar Kanal, 13km
Comer See, 147km
Constanza Kanal, 71km
Cote d Azur, 598km
Dahme, 62km
Dassower See, 7km
Datteln-Hamm-Kanal, 47km
De Greft, 3km
De Lits, 10km
De Moark, 6km
De Potmarge, 3km
De Ryd, 3km
Deutsche Nordseeküste, 415km
Deutsche Ostseeküste, 809km
Dokkumer Djip, 26km
Dokkumer Ee, 33km
Dollart, 30km
Donau, 2690km
Donau Kanal, 95km
Dordtsche Kil, 10km
Dortmund-Ems-Kanal, 125km
Dosse, 12km
Douro, 285km
Dove-Elbe, 17km
Drentse Hoofdvaart, 53km
Dubbele Wiericke, 8km
Dziwna, 37km
Dänische Küste, 2049km
Eder, 15km
Eemskanaal, 33km
Eider, 114km
Eigg, 26km
Eilbekkanal, 2km
Eindhovens Kanaal, 14km
Elba, 84km
Elbe, 992km
Elbe-Havel-Kanal, 55km
Elbe-Lübeck-Kanal, 132km
Elbe-Parey-Kanal, 3km
Elbe-Weser-Schifffahrtsweg, 64km
Elde, 122km
Ems, 200km
Enkele Wiericke, 8km
Erdre, 29km
Erftkanal, 4km
Este, 14km
Etsch, 155km
Etschkanal, 59km
Ferchesarer See, 11km
Finowkanal, 42km
Fiume Brenta, 124km
Fiume Corno, 8km
Fiume Gua, 95km
Folkertssleat, 4km
Formentera, 71km
Französiche Atlantikküste, 1842km
Fulda, 110km
Färöer, 320km
Gardasee, 133km
Garonne, 152km
Garonne-Kanal, 194km
Gat van de Buisjes, 11km
Genfer See, 162km
Gieselau-Kanal, 3km
Giglio, 23km
Glindower See, 3km
Goalingahuster Sleat, 6km
Goldbekkanal, 3km
Gotland, 344km
Gouwzee, 6km
Grevelingen, 48km
Griechische Küste, 2433km
Grienericksee, 2km
Groningen Verbindungskanal, 3km
Grossbritannische Küste, 4241km
Guadalquivir, 99km
Gürnsey, 38km
Haagvliet of Trekvliet, 4km
Haarlemmervaart, 8km
Hafen Schierstein, 1km
Hamburg, 55km
Haren-Rütenbrocker-Kanal, 14km
Hartel Kanaal, 24km
Havel, 335km
Havel-Verbindungskanal, 1km
Havelkanal, 34km
Herentals Bocholt Kanaal, 108km
Heusdensch Kanaal, 4km
Hiiumaa, 168km
Hirta und Soay, 20km
Hollandse IJssel, 53km
Hoofdkanaal, 22km
Humber, 61km
Hunte, 71km
Hunte (See), 24km
Hüttenkanal, 4km
IJssel, 156km
IJsselmeer, 256km
Ibiza, 110km
Ilmenau, 29km
Irische Küste, 1612km
Ischia, 48km
Isebekkanal, 3km
Island, 1790km
Islay, 111km
Isle of Man, 126km
Isle of Mull, 107km
Isle of Wight, 58km
Italienische Küste, 1341km
Jade, 50km
Jade-Ems-Kanal, 78km
Jersey, 54km
Jura, 101km
Jümme, 19km
Kanaal Alkmaar Omval-Kolhorn, 24km
Kanaal Den Helder Alkmaar, 37km
Kanaal Dessel Kwaadmechelen, 16km
Kanaal Gent Brugge, 39km
Kanaal Gent Brugge Oostende, 24km
Kanaal Gent Terneuzen, 32km
Kanaal Helmond, 10km
Kanaal Steurgat, 12km
Kanaal Stolpen-Schagen, 12km
Kanaal door Zuid-Beveland, 12km
Kanaal van Sint Andries, 2km
Kanal Briare, 56km
Kanal Cän, 18km
Kanal Henriettenwaard, 11km
Kanal Loing, 50km
Kanal Nantes Brest, 399km
Kanal Nordfrankreich, 96km
Kanal Wessem-Nederweert, 17km
Keteldiep, 5km
Kieler Bucht, 19km
Koning Willem Alexanderkanaal, 3km
Kos Bredning, 93km
Krampnitzsee, 3km
Kreta, 679km
Kurkmeer, 3km
Laakkanaal, 6km
Lago Maggiore, 140km
Laguna Marano, 33km
Laguna Veneta, 79km
Lahn, 180km
Langdeel, 5km
Langeland, 113km
Leda, 21km
Leda (See), 4km
Leidener Gracht, 10km
Leine, 91km
Lek, 60km
Lekkanaal, 10km
Lemstervaart, 18km
Liede, 4km
Limfjorden, 281km
Linge, 42km
Livenza, 49km
Loire, 481km
Lovns Bredning, 38km
Luganersee, 83km
Löcknitz, 11km
MLK-Abstiegskanal, 5km
MLK-Elbe, 115km
MLK-Leine, 26km
MLK-Stichkanal Hildesheim, 15km
MLK-Stichkanal Osnabrück, 13km
MLK-Stichkanal Salzgitter, 18km
Maas, 753km
Maas-Waal-Kanaal, 14km
Maasvlakte Rotterdam, 18km
Main, 390km
Main-Donau-Kanal, 170km
Mallorca, 339km
Malta, 72km
Margrietkanaal, 28km
Mark, 39km
Markermeer, 121km
Markkanaal, 6km
Marnekanal, 258km
Mecklenburgische Seenplatte, 74km
Medem, 16km
Menorca, 129km
Mersey, 77km
Merwedekanaal, 24km
Mincio, 36km
Minjo, 51km
Mittellandkanal, 327km
Mittelmeer, 72754km
Moldau, 61km
Montechristo, 13km
Mosel, 401km
Müritz, 64km
Müritz-Havel-Kanal, 15km
Nakskov Fjord, 12km
Naviglio Brenta, 26km
Naviglio Grande, 77km
Naviglio Martesana, 36km
Neckar, 202km
Nederrijn, 60km
Neue Maas, 54km
Neuenburger See, 79km
Neusiedler See, 87km
Nibe Bredning, 78km
Niederl. Nordseeküste, 607km
Niederländischer Kanal, 199km
Nieuwe Kanaal, 14km
Noord Willemskanaal, 28km
Noorderkanaal, 7km
Noordhollandkanaal, 40km
Nord-Ostsee-Kanal, 101km
Nordirische Küste, 269km
Nordschottische Küste, 481km
Nordsee, 31962km
Nordzeekanaal, 32km
Norwegische Küste, 2638km
Oder, 658km
Oder-Havel-Kanal, 53km
Oder-Spree-Kanal, 40km
Oise, 214km
Okers Sjö, 109km
Oosterschelde, 70km
Oostvaardersdiep, 6km
Oranjekanaal, 44km
Osterbekkanal, 4km
Osteuropa, 2486km
Ostsee, 27356km
Oude Rijn, 49km
Peene, 98km
Peenestrom, 51km
Petzinsee, 2km
Pianosa, 18km
Piave, 3km
Po, 444km
Po Etsch Kanal, 11km
Polnische Küste, 437km
Portugiesische Küste, 795km
Portus Ganda, 7km
Prebelowsee, 1km
Purmerringvaart, 12km
Ratzeburger See, 12km
Regnitz, 9km
Reitdiep, 51km
Rhein, 788km
Rhein-Herne-Kanal, 58km
Rhein-Marne-Kanal, 292km
Rheinsberger See, 3km
Rhin, 144km
Rhin-Havel-Kanal, 8km
Rhone, 333km
Rhone-Rhine-Canal, 342km
Rijn-Schiekanaal, 23km
Ringvaart, 17km
Ringvaartaquaduct, 60km
Roode Vaart, 7km
Rotte, 19km
Ruhr, 42km
Ruhrkanal Dortmund, 15km
Rum, 44km
Rummelsburger See, 2km
Ryck, 9km
Saale, 115km
Saar, 105km
Saaremaa, 302km
Saarkanal, 64km
Sambre, 139km
Saone, 396km
Sardinien und Corsika, 1344km
Scalo di Gorgona, 6km
Schelde, 331km
Schelde-Rhein-Kanal, 57km
Schie, 20km
Schinkel, 8km
Schlabornsee, 4km
Schlei (See), 43km
Scholtens Kanaal, 6km
Schottland-Nordirland, 17km
Schwarzes Meer, 5812km
Schwedische Küste, 2184km
Schweriner See, 69km
Schwielowsee, 5km
Seen Brandenburg Ost, 18km
Seine, 512km
Seine-Saone-Kanal, 243km
Severn, 168km
Sevre Nantaise, 24km
Sile, 85km
Sizilien , 867km
Skive Fjord, 32km
Somme, 171km
Spaarne, 14km
Spanische Küste, 2449km
Spilsluizen, 2km
Spree, 163km
Spree-Kanal, 33km
Spui, 19km
Stadsgracht Leeuwarden, 4km
Stadsgracht Sneek, 1km
Stadtgraben Lübeck, 6km
Starnberger See, 44km
Stepenitz, 3km
Stettiner Haff, 137km
Stiegnitzsee, 14km
Stieltjeskanaal, 12km
Stockholm Küste, 99km
Storkow-Kanal, 34km
Strasse von Gibraltar, 16km
Stroomkanaal, 15km
Stör, 20km
Stör (Holstein), 34km
Tagliamento, 38km
Tegeler See, 4km
Templiner Wasser, 26km
Teupitzer See, 19km
Themse, 112km
Thisted Bredning, 50km
Thuner See, 43km
Ticino, 80km
Tiezowsee, 1km
Trave, 33km
Treene, 16km
Twenthekanaal, 65km
Tyrie, 7km
Türkische Küste, 2751km
Vassbotten, 8km
Vechte, 34km
Veenparkkanaal, 3km
Veerse Meer, 33km
Venedig, 37km
Venö Bugt, 60km
Verbindungskanaal Gent, 6km
Verbindungskanal Nancy, 10km
Verl. Hoogenveensche Vaart, 62km
Vierwaldstättersee, 110km
Villaine, 149km
Vinckekanal, 3km
Visby Bredning, 45km
Vogesenkanal, 128km
Vänern, 486km
Vättern, 260km
Vödingskanaal, 12km
Waag, 76km
Waal, 181km
Waardkanaal, 11km
Wakenitz, 15km
Wales-Irland-Wasserstrasse, 74km
Wannsee, 7km
Warmonderleede, 9km
Warnow (See), 15km
Warta, 78km
Weichsel, 949km
Wentowsee, 11km
Werbelinkanal, 20km
Werra, 60km
Wesel-Datteln-Kanal, 60km
Weser, 353km
Weser (See), 75km
Weserarm Langwedel, 9km
Weserarm Werdersee, 6km
Westeinderplassen, 7km
Westpoort, 15km
Westschottische Küste, 628km
Wielshals, 8km
Wijde Ee, 7km
Wilhelmskanaal, 71km
Wolderwijd, 102km
Woudmansdiep, 7km
Wublitz, 8km
Wusterwitzer See, 4km
Wörthersee, 36km
Yonne, 111km
Zaan, 18km
Zatoka Nowowarpienska, 4km
Zechliner See, 4km
Zederikkanaal, 1km
Zijkanaal, 18km
Zijl, 7km
Zootzensee, 4km
Zuid Willemsvaart, 70km
Zuidervaart, 5km
Zwarte Water, 39km
Zwette, 20km
Zwolse Vaart, 33km
Zypern, 612km
Zürichsee, 88km
Ärö, 61km
Ögstgeesterkanaal, 4km
Öland, 255km
Öresund, 13km
Ücker, 4km
Areas in the US and canada
Chicago Sanitary and Ship Canal
Columbia River
Delaware River
Detroit River
Grand River
Green Bay
Hudson River
Illinois River
James River
Lake Erie
Lake Georgian
Lake Huron
Lake Michigan
Lake Ontario
Lake Superior
Mississippi River
Missouri River
Niagara River
Potomac River
St. Claire River
St. Lorenz Strom
St. Marys River
Welland Canal